Part 1: Decorating with a clear vase
For Thanksgiving this year I did a really simple centerpiece. I bought the vase for just $1 at Dollar Tree, filled it up with fresh cranberries, water and placed a candle in the center. So easy! It's a nice holiday decoration.
Similar to this:
Filling a vase is such an easy DIY project that you can change up each season/occasion! I'll be changing mine soon for the Christmas season. I think I will keep it simple and fill it with some mini ornaments.  You can definitely decorate a vase for a very low price. Try thrift stores for great vases and dollar stores for less expensive decorations. If you are wanting to use fruit and keep it for a while, you may want to look for fake plastic fruit!
Love this! Don't be afraid to create layers within the vase.
Fruit adds a fun pop of colour.
Spray some pinecones to match your ornaments.
Create a tree!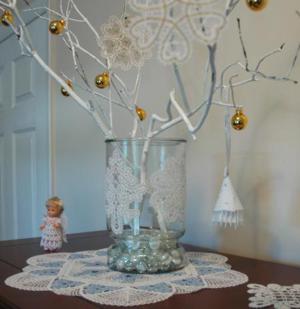 Use similar varying shades of the same colour.
Add a bow!
Try flipping the vase upside down!
Pinecones + ribbon.